Schapiro Hall
Mostly Juniors and Seniors live in Schapiro although Sophomores also live in Schapiro in doubles. The building offers an off-campus living experience with a number of amenities, including the Stephen Donaldson Lounge, a space for LGBTQ+ students to gather.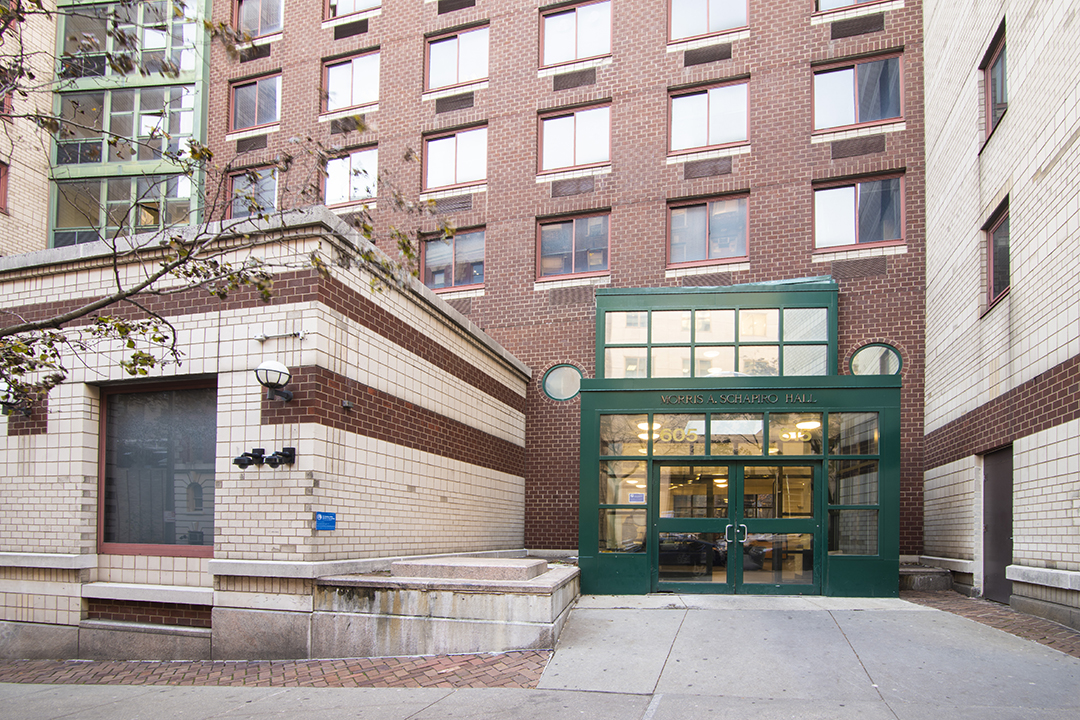 Key Features:
Music practice rooms in basement
Faculty-in-residence: Samuel Roberts, Associate Professor of History and of Sociomedical Sciences
17th floor study lounge has beautiful view of Hudson River
Short walk to subway line 1 and Morton Williams Supermarket
About the first-floor Stephen Donaldson Lounge:

On September 27, more than 100 students, faculty, staff and alumni gathered in Schapiro Hall to celebrate the opening of a new lounge for LGBTQ+ students and to commemorate the anniversary of the dedication of the original Stephen Donaldson Lounge in Furnald Hall. Both the original and the new space are named in honor of "Stephen Donaldson," the alias of Robert Martin '69, who founded Columbia's then-named Student Homophile League in 1966. In 1971, students began unofficially meeting in the Furnald basement and, in 1972, the group lobbied for and was granted a permanent meeting space, making it the first LGBTQ+ student lounge on a college campus. In 1996, the Furnald space was renamed the Stephen Donaldson Lounge.
Building Details:
Housing Rate:

Entrance location:

605 W. 115th Street 

Number of residential floors:

15

Single/Double rooms:

245/85
Bathroom Style:

Shared – Separate men's and women's per floor. Accessible restroom per floor. 

Laundry:

Free laundry facility in basement

Flooring:

No carpet

Kitchen-style:

Shared – Per floor 

Lounge:

Kitchen Lounge – Per floor with cable TV
Building Lounge – Ground floor
Study Lounge – 17th floor 

Fitness Room:

Not available. Visit the Fitness Center Locations page for the locations of exercise equipment in our residence halls.

Computer Lab:

Available – 1st floor

Cleaning Responsibility & Schedule: 

Bathrooms: Daily, Monday - Friday, by Facilities
Kitchens: Daily, Monday - Friday, by Facilities
Trash Removal (Room/Suite): Residents are responsible for bringing their own trash to designated trash receptacles
Recycling: Weekly by Facilities

What former residents say:
"Schapiro is equipped with excellent amenities – carpet flooring, a common lounge, a kitchen, adequate bathrooms, music rooms, and of course the sky lounge! Schapiro had a lovely off-campus feel for me, which was a good break from the intensities of on-campus first-year living."