HERE TO SUPPORT THE UNDERGRADUATE RESIDENTIAL COMMUNITY
Columbia Housing provides our undergraduate residential students with safe and comfortable accommodations, and a friendly face whenever they have questions or concerns. We're responsible for maintaining the physical integrity, cleanliness and operations of Columbia's 30+ undergraduate residence halls. While we manage a lot of moving parts to keep our buildings in top shape, our number one priority is our undergraduate student residents.
If you are a graduate student seeking University housing, please visit the Columbia Residential website.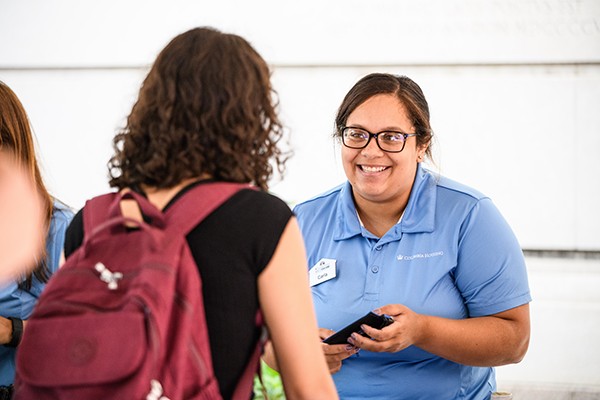 The Hospitality Desk, located in the Hartley Hall lobby, is available 24/7 for walk-in support, by phone at 212-854-2779 or email at housing@columbia.edu to help with general questions and concerns. For maintenance support in your room or building, open a Service Request with Facilities and Operations at any time.
If one of the machines in the laundry room is not working properly, please help out by reporting the issue to the vendor. Please remember that our laundry rooms are shared spaces. Use LaundryView to monitor your wash so you can quickly empty the washer for the next person.

Undergraduate students living in Columbia Housing can use our new streaming service on compatible televisions, computers or mobile devices anywhere there is internet access. Click here to learn more about who is eligible and how to set up the service on your device(s).
October 25, 2021
Please note that, due to system maintenance, the Housing Portal will be inaccessible from 6:00 p.m. - 9:00 p.m. on Monday, October 25. If you have any questions, please contact housing@columbia.edu.
October 20, 2021
The Wallach Lounge will close in October to allow for special e-gaming renovations.
October 19, 2021
During inspections, staff enter student spaces to ensure that all fire safety equipment is in place and in functioning order, and that there are no prohibited items. Residents will receive email notification from Columbia Housing 48 hours prior to their building's inspection date and do not need to be present.
VIDEO LIBRARY
Below are a selection of videos that may be helpful as you check-in for the Fall term. Visit our full video library for videos covering additional topics.