HERE TO SUPPORT THE UNDERGRADUATE RESIDENTIAL COMMUNITY
Columbia Housing provides our undergraduate residential students with safe and comfortable accommodations, and a friendly face whenever they have questions or concerns. We're responsible for maintaining the physical integrity, cleanliness and operations of Columbia's 30+ undergraduate residence halls. While we manage a lot of moving parts to keep our buildings in top shape, our number one priority is our undergraduate student residents.
If you are a graduate student seeking University housing, please visit the Columbia Residential website.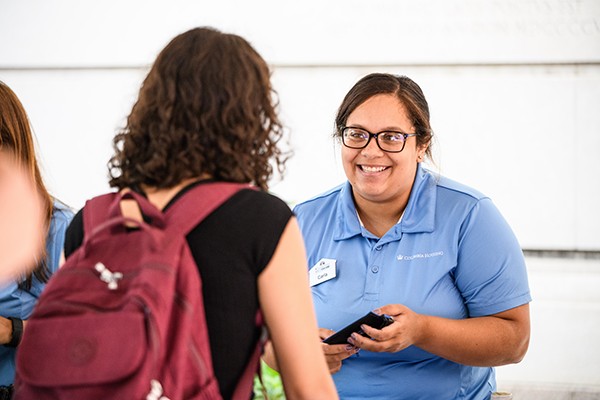 The Hospitality Desk, located in the Hartley Hall lobby, is available 24/7 for walk-in support, by phone at 212-854-2779 or email at housing@columbia.edu to help with general questions and concerns. For maintenance support in your room or building, open a Service Request with Facilities and Operations at any time.
If one of the machines in the laundry room is not working properly, please help out by reporting the issue to the vendor. Please remember that our laundry rooms are shared spaces. Use LaundryView to monitor your wash so you can quickly empty the washer for the next person.
September 17, 2021
Students should be aware of temporary changes to the residence hall access, the guest policy, and gatherings.
September 10, 2021
Failure to complete the Web Inventory Report (WIR) makes a resident ineligible to contest any damage charges upon Check-Out.
August 27, 2021
The Guide to Living contains important policies and procedures related to the undergraduate residential experience.
VIDEO LIBRARY
Below are a selection of videos that may be helpful as you check-in for the Fall term. Visit our full video library for videos covering additional topics.