HERE TO SUPPORT THE UNDERGRADUATE RESIDENTIAL COMMUNITY
Columbia Housing provides our undergraduate residential students with safe and comfortable accommodations, and a friendly face whenever they have questions or concerns. We're responsible for maintaining the physical integrity, cleanliness and operations of Columbia's 30+ undergraduate residence halls. While we manage a lot of moving parts to keep our buildings in top shape, our number one priority is our undergraduate student residents.
If you are a graduate student seeking University housing, please visit the Columbia Residential website.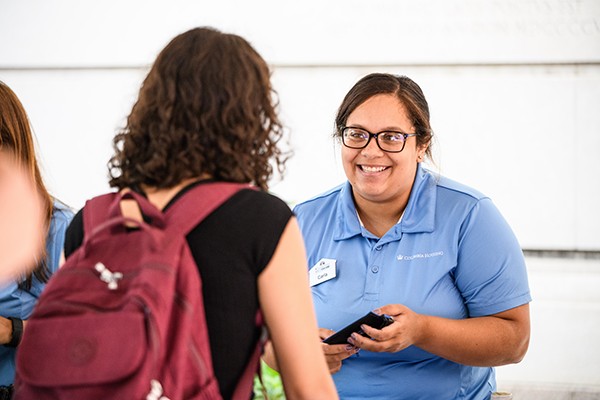 The Hospitality Desk, located in the Hartley Hall lobby, is available 24/7 for walk-in support, by phone at 212-854-2779 or email at housing@columbia.edu to help with general questions and concerns. For maintenance support in your room or building, open a Service Request with Facilities and Operations at any time.
If one of the machines in the laundry room is not working properly, please help out by reporting the issue to the vendor. Please remember that our laundry rooms are shared spaces. Use LaundryView to monitor your wash so you can quickly empty the washer for the next person.
January 18, 2022
Eligible Combined Plan students must register for the Combined Plan lottery to determine whether they will be invited to participate in general Room Selection.
January 14, 2022
Students received a message on January 13 reinforcing key policies and protocols for COVID-19 operations as we begin the spring semester. Included is a temporary change to guest access in residence halls.
November 30, 2021
Undergraduate Student Life will open the brownstone selection process to all Columbia College and Engineering residential students with guaranteed housing.
VIDEO LIBRARY
Below are a selection of videos that may be helpful as you check-in for the Fall term. Visit our full video library for videos covering additional topics.