OUR TEAM
Columbia Housing offers students a unique opportunity to make the undergraduate residences home and build a close sense of community within the reach of all that New York City has to offer. Housing is provided for approximately 5,600 undergraduate students across 19 undergraduate residence halls and 18 brownstones. Our organization houses traditional residential students as well as special living communities, located on and around our Morningside campus. Learn more.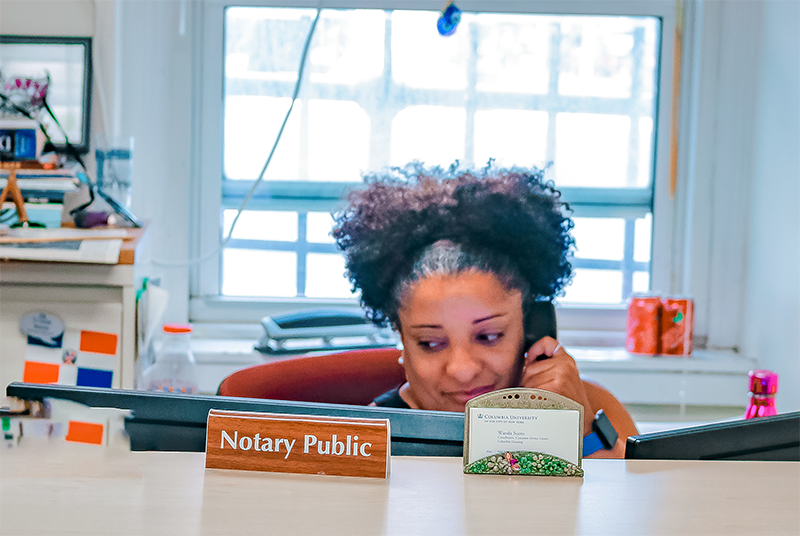 Staff Directory
As an Assistant Manager, Natalie helps manage the Hartley Hospitality Desk and works closely with the various on campus departments to ensure residents have safe and enjoyable experience. She assists residents with any concerns and responds to their requests in a timely and efficient manner. 

Natalie began working at Columbia in November 2020. She holds a B.A. in Linguistics with a concentration in Speech Science and a Minor in Italian from Boston University. She has worked in hospitality for five years— she previously worked at the Westin Boston Waterfront in Boston, MA and as a Guest Relations and VIP Agent at the JW Marriott Essex House NY. Natalie speaks three languages and enjoys meeting people from different cultures. 

As the Assistant Director of Housing Operations, Menlee focuses on data analysis and reporting for Columbia Housing. He also manages numerous vendor relationships and works closely with several campus partners. Menlee began working with Columbia in 2013 as a member of the Lerner Operations Team.

Menlee received a B.A. from Columbia University in Political Science. He is currently serving in his first year as the 2019-2020 Vice President of the Columbia Black Alumni Council, and volunteers as a mentor for a Columbia founded non-profit organization. He is an active alum and remains committed to improving the Columbia experience wherever possible.

As the Director of Guest Services and Student Center Operations, Lorena works closely with partners across the University including Student Life, Residential Life, Campus Operations, Public Safety, Dining, Environmental Stewardship, and others. She began her career at Columbia University in 2012 as part of the Lerner Operations Team.

Lorena holds a Bachelor's Degree in Civil Engineering from The University of Connecticut and a Master's Degree in Sustainability Management from the Columbia University School of Professional Services. Her experience at Columbia, both as an officer of the University and a student/alum inspires her to continuously strive to impact positive change within the campus community.

Lara oversees all academic year housing assignments, including first-year, new transfer, and exchange students, as well as coordination of First-Year Check In and Room Selection.

Lara began working at Columbia University in December, 2010. She holds a Bachelor of Science in Mathematics from the University of Washington, Masters in Secondary Education, and a Master of Public Administration with a concentration in International Economic Policy and Management from the Columbia University School of International and Public Affairs.

Lara loves to travel. She has visited 42 countries and hopes to fulfill her dream of visiting every country possible.

As the Associate Manager of Guest Services, Justin focuses on overseeing the Hartley Hospitality Desk and the day-to-day operations related to central services for current students on campus.  Justin serves as a department liaison with Facilities and Public Safety to address and resolve maintenance, custodial, safety, and housing-related issues. 

Before Columbia, Justin worked for a real estate firm as a property manager for three years. With his previous work experience, he has expertise in building systems and operations. Justin received a B.A. from City College of New York in Political Science, and he is also an alum of the Roger Lehecka Double Discovery Center. 

As Assistant Director of Guest Services, Jennifer oversees the Hartley Hospitality Desk to support the delivery of housing services to students. She works closely with Student Life, Residential Life, Campus Operations, Public Safety, Dining, Environmental Stewardship, and other related University partners.

Jennifer began working at Columbia University as a member of the Lerner Operations team in March 2015. She holds a BS in Business Management from Bentley University and a MS degree from Columbia University School of Professional Studies, with a concentration in Negotiation and Conflict Resolution.

Honey Sue provides vision, organization, and leadership to the operation of Columbia's undergraduate residence halls and Alfred Lerner Hall, the student center.

This broad scope of work encompasses short and long-term capital planning of the physical assets, custodial and maintenance, and guest services for student residents, visitors, and administrators. With her team, Honey Sue aims to provide a consistent, easy to navigate, and rewarding campus experience.

In addition to these responsibilities, Honey Sue manages Columbia's Trademark and Licensing program and several on-site services provided by contracted vendors. Honey Sue has served in various leadership roles during her tenure at Columbia. Most recently, she served as executive director of Business Services. She holds a bachelor's degree from Washington University in St. Louis.

Glen started at Columbia University as an Associate Manager, Guest Services in August 2020. He is responsible for overseeing the day-to-day operations of the Hartley Hospitality Desk, related to critical and central services in response to student residents as well as other parts of Columbia Housing.  

Glen holds a B.S. in Hospitality Management from New York City College of Technology.  He previously worked at Union Square Events as the Operations Manager at The Shed where he liaised between USE's onsite Food and Beverage operations.  This included oversight of the retail bar operations, catering, Cedric's at The Shed restaurant, facilities, IT, security, and local union teams. 

Frances oversees Housing assignments, including extensions, early arrivals and interim assignments. She also coordinates SIC and FSL Housing for the academic year.

Frances joined Columbia Housing in 2006. She previously worked at Citibank, Scotiabank, and the non-profit organization Children International. Frances studied at the Universidad Catolica Madre y Maestra in the Dominican Republic and is currently enrolled in the Columbia University School of General Studies. 

Erik oversees the Housing database system, which manages assignments, billing and building access, maintaining its integrity, security, and accuracy, and implementing updates and functionality as needed to better serve our student residents. He also helps create and maintain system policies, procedures, and staff training. 

Erik earned his Bachelor of Science in Management Information Systems and Political Science from Iowa State University. He joined Housing full time in Fall 2017, and as an ACUHO-I intern in May 2015 starting as a Conference Housing Assistant. Erik returned the following two summers and was promoted to Conference Operations/Special Projects. He also previously worked in the Iowa Senate in the off-conference season.

Carla Alba is part of the team that manages Conference Housing at Columbia. Carla joined Columbia Housing as an ACUHO-I intern in May, 2015 assisting with conference housing. She continued to work with Columbia Housing in the summer in subsequent years and was promoted to coordinator of special projects in the summer of 2018.

Prior to joining the Housing team, Carla also worked for the Columbia University Facilities & Operations organization as an inventory specialist. Carla is a graduate of the Indiana University of Pennsylvania, where she earned a Bachelor of Arts in sociology.

Afshan acts as the on-site daytime department liaison with Facilities, Residential Life, and Public Safety and manages the Housing Hospitality Desk. She ensures that the concerns of residents are addressed and resolved in a timely manner.

Afshan joined the Columbia Housing team in May 2013 and is currently pursuing a degree in teaching.