SAFE & EFFICIENT CHECK-IN
The Columbia Housing team is excited to welcome students to campus this fall. We're working with our partners across the University to plan for your arrival.
While this year's Check-In won't be quite the same as a traditional year, we're taking steps to ensure the health of our entire campus community. Review the step-by-step instructions for Check-In below, as well as our interactive Check-In map which will help you get to where you need to go when you arrive on campus.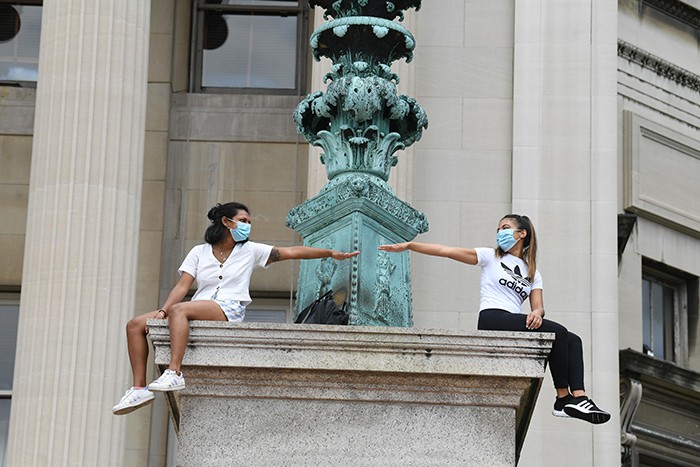 Make sure to wear a protective face covering.
Check-In Process
Here's a step-by-step overview of the Check-In process for students living on campus for the Fall 2020 term.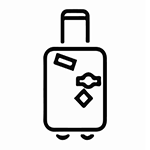 First, drop off your belongings at the designated area for your residence hall. Staff will be on hand at each location to keep items safe until you return to move into your room. If you received a temporary housing assignment because you are required to complete a 14-day quarantine, drop off your luggage at the residence hall you will be staying in for the quarantine period.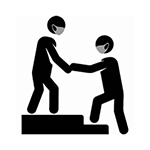 Next, check-in with the Housing team in Cafe 212, located in Alfred Lerner Hall. Enter the doors on the east side of the building closest to Butler Library. Guests cannot accompany you to Lerner Hall. They will be provided separate instructions for Check-In day.
After checking in with Housing, you will be directed to the Lerner Hall auditorium to complete COVID-19 testing. This step is required to move in to the residence halls.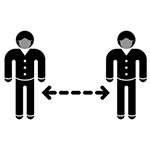 After you've completed your COVID-19 test, return to luggage drop to collect your belongings and proceed to your room. Only one guest is allowed in the residence hall with you. Make sure to wear your face covering and observe safe physical distancing from others moving in at the same time. Students required to quarantine for 14 days should go to the room they were temporarily assigned for quarantine, not the residence hall they will live in post-quarantine.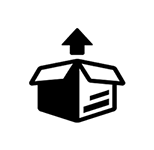 Unpack, settle in, and start to make your room your new home away from home. All students should quarantine for 24-36 hours until confirmation of a negative COVID-19 test result. Those students under 14-day quarantine must remain in quarantine in their temporary room assignment and follow the instructions provided by Columbia Housing and Columbia Health staff.
Fall 2020 Check-In Map
The map below is built in Google Maps and will allow you to see where you need to go when you arrive on campus for Check-In. Clicking on a point on the map will provide additional details. If you are using a mobile device, you can utilize the Directions feature in Google maps to get step-by-step directions for getting to the location by car, mass transit, or by foot.
Additionally, a printable PDF version of the Check-In Map is available.

Click the icon at the top left of the map that looks like the one above to open the legend.

Clicking the markers will reveal additional information about the location and further instructions. The green star is where Check-In is being conducted. The suitcase indicates luggage drop-off, and so forth.

Those dropping off at John Jay Hall have a slightly different process to everyone else. You will need to drive onto campus as indicated on the map, stop at the luggage drop-off marker, then walk your luggage from the drop-off to John Jay Hall.

Students arriving from areas that require a 14-day quarantine period per NY State health guidance should drop luggage off at their temporary quarantine housing location, not their permanent Fall term residence hall.